After a childhood on the dump, John Chweya wants to ensure rights are enshrined in UN plastic pollution treaty
As a boy John Chweya was one of many children who scrambled over the mountain of stinking waste at Kachok dump, using a magnet that he dangled over the rubbish to pull out metal scraps and earn a living.
Over the years since, global companies such as Coca-Cola, Pepsi and Nestlé have increased plastic production by millions of metric tonnes, and plastic bottles have replaced metal as the source of income for those who pick through the garbage in Kisumu, the third-largest city in Kenya.
Today in the multimillion-pound plastic industry, it is the people who live and work on rubbish mountains in Africa and across the world who are the invisible backbone of plastic recycling and enable multinational companies to meet their targets to reduce its use.
According to the United Nations environmental assembly, 60% of the plastic recycled across the world is collected by waste pickers like Chweya. But they are ghost workers; unrecognised, unprotected and discriminated against. With no ability to access healthcare, they succumb to infections, lung diseases and cancer from living amid toxic waste, inhaling smoke from burning plastic and scraping a living in some of the worst conditions possible.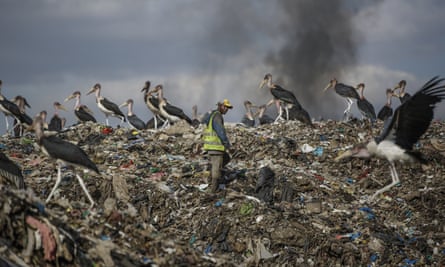 "There were a lot of children my age at the dump when I started going there. Some of them were sleeping there in makeshift houses they had built," said Chweya. "Most of those friends of mine from the dump died, some were killed in accidents, and some died from sickness. I remember all their names."
Perhaps it is those names Chweya carried with him in an incredible journey over 20 years that has taken him from a childhood on the waste dump to the discussion rooms of the UN, driven by a passion to ensure the rights of waste pickers across the world are put front and centre of the global treaty to fight plastic pollution.
This month in Paris, Chweya will sit alongside representatives of world leaders as the gritty details of the UN treaty to tackle plastic pollution are hammered out. Chweya, who now leads the waste pickers' association of Kenya, representing 36,000 collectors, has been instrumental in pushing countries to recognise the world's 20 million waste pickers in the treaty. He wants justice for collectors, as well as healthcare, a proper income and better working conditions, to be included in the treaty.
"As someone who has experienced the deep inequalities and social injustices that waste pickers suffer not just in Kenya, but across the world, being part of this is a very historic moment," said Chweya. "We have been literally the backbone of collection and recycling systems in the world, and one of the things I know for sure is that the treaty must be for the people who have been on frontline of fighting this global problem of plastic pollution.
"It is a matter of life for us. We have already died and are still dying, so I want to make sure that the role and contribution of waste pickers is not taken for granted."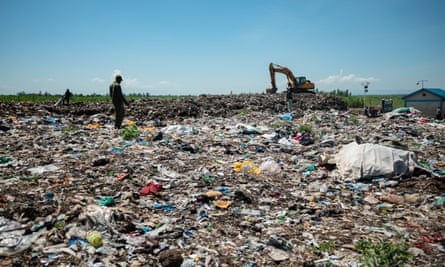 Richard Gower, a senior associate for economics and policy at the international NGO Tearfund, which provides advocacy support to Chweya, said: "When the treaty was first discussed most people thought plastic pollution was an environmental problem, rather than a human problem.
"There is increasing recognition now of the human problem: the impact on the 20 million people involved in collecting plastic from streets and dumps, and the 2 billion people in the world who do not have regular bin collections, which results in huge amounts of plastic being dumped, and the health impacts of that pollution."
In the years Chweya has worked as a waste picker, he has come up against discrimination, death and lack of dignity. "I had to start picking because my family's life changed overnight when there was a fire at the market where my mum sold the secondhand clothes which were our main income.
"From then on every single one of us had to go out and try and earn money. So I started looking for metals to sell from the waste in the streets and the dump. I used a magnet tied to a rope, and hung it over the rubbish to attract the metal. For each kilogram of metal I sold to a dealer I would get five Kenyan shillings – that is like, in dollars, $0.03."
For a while Chweya was able to attend primary school, where the parents of his friends shunned him. "They did not let their children play with me. They called us thokora, which is a Swahili word for someone who eats from a bin," he said.
As he grew up, Chweya, who was better educated than most of those living on the meagre money earned by sifting through rubbish, began to organise his friends in Kisumu. With organisation came more power and a stronger voice, which he used to challenge the county government on its policies.
"We were doing the job that the municipal government was supposed to be doing, but no one was engaging with us. They saw us as illiterate and uneducated and for a very long time they did not understand the livelihoods of waste pickers," he said.
"It was not until we started to engage with them that they started to see us properly."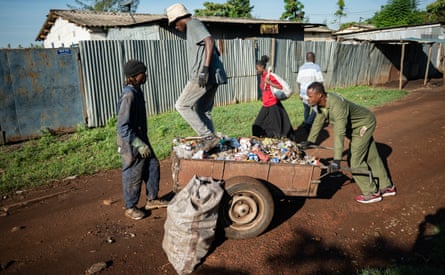 Chweya began to build local cooperatives of waste pickers, boosted initially by a county government grant of 40,000 Kenyan shillings (£230). In Kisumu, he is now part of a group who bargain collectively and pool their earnings. "We are collecting more plastic and because we have a stronger voice now, we are negotiating directly with agents and sometimes with the recycling companies," he said.
The putrid Kachok dump was closed last year after four decades of operation, but waste tips like it still exist in Kenya and across the world. And as he travels across the country to speak to workers, Chweya still encounters death and illness on a daily basis.
In February, a fire at the Gioto dump site in Nakuru killed three waste pickers, and those who survived lost everything as the blaze – fuelled by plastic waste – ripped through their makeshift homes.
"The health needs of waste pickers are one of my top priorities," said Chweya, who recently raised enough money on his Facebook page to supply 600 pairs of gumboots and gloves; basic safety equipment for his colleagues. "I see my colleagues dying, I see them with symptoms of cancer, I see mysterious diseases developing in them, I see lives just disappearing.
"But at the top of this system there are very wealthy companies, big drinks companies and major waste companies, who make a lot of money. Their employees enjoy the luxury of health insurance, good salaries, a normal life, but for those of us who are doing the job of collecting the plastic waste, we cannot access any of those privileges."
The Guardian