PreZero US will shutter its South Carolina plastics recycling facility and will instead refocus on expanding its recycling capabilities in California.
The company, which is the U.S. recycling arm of Germany-headquartered PreZero, has begun the process of closing its Westminster, S.C. facility, where the company recycles mixed rigid plastics from households and commercial sources and PE films from retail environments. The announcement was made on Sept. 26.
"The issue was it was underperforming," Max Bracey, marketing and communications manager at PreZero US, told Plastics Recycling Update.
Less than a year ago, PreZero announced a project to invest millions of dollars to add film recycling capacity to the plant, which was already recycling mixed rigids. At that time, the South Carolina governor's office touted the $11.5 million investment and the creation of 32 jobs, and PreZero US's now-former CEO, Hernan de la Vega, said at the time that the company was "happy to provide stable, long-term employment opportunities for the surrounding community."
Clemens Stockreiter took over as CEO of PreZero US on Sept. 1, after de la Vega left to join PreZero's parent company, the Schwarz Group.
The Westminster closure announcement stated that "after much deliberation, it was determined that the closure is the best way forward for PreZero US to remain sustainable in the pursuit of its vision for a cleaner tomorrow." In the interview, Bracey said he wasn't free to discuss whether issues were related to scrap supply, recycled resin sales contracts and/or other reasons.
The film recycling line installation, which was completed, was supposed to boost the Westminster facility's total recycling capacity to about 40,000 tons per year. Yet the plant recycled only about 14,000 tons of post-consumer plastic since July 2021, when PreZero took full control of the plant previously run in partnership with ACI Plastics, Bracey said.
The closure announcement stated PreZero US began shutting down the plant on Sept. 21 and the facility would officially close in November. Bracey said the facility currently has 57 full-time staff members. The employees will be offered incentives to stay for the remaining 60 days, and those who stay will receive a severance package.
PreZero plans to leave its equipment at the Westminster site, which it owns, "with the aim of returning to the Southeast region in due course."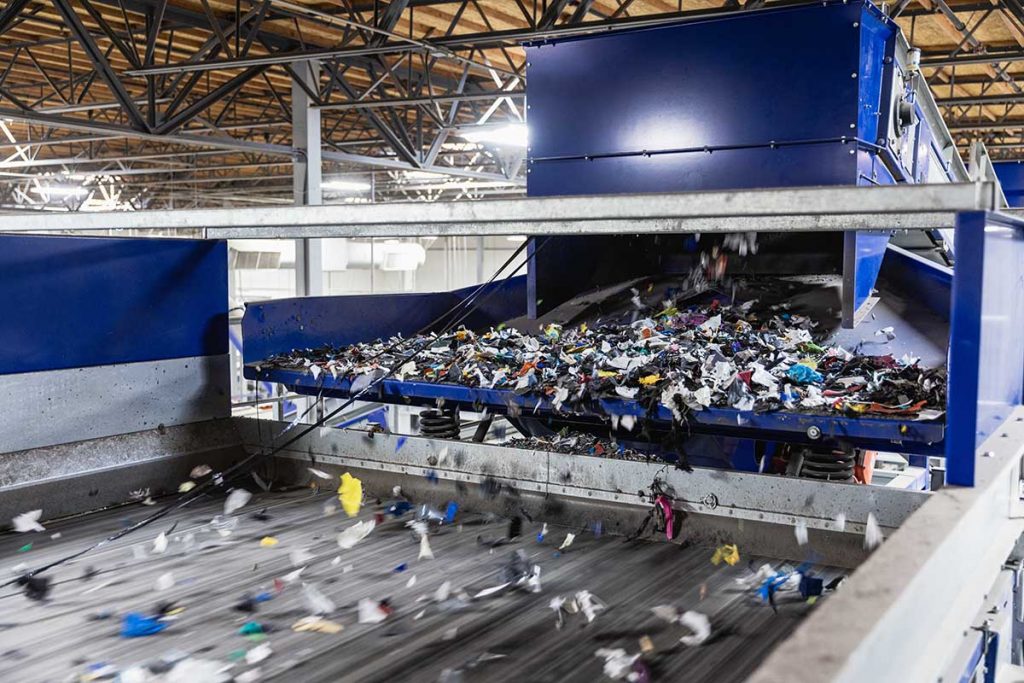 Mixed rigid plastics being recycled at PreZero's Jurupa Valley, Calif. plant. PreZero is one of a small number of domestic outlets for mixed-plastic bales.
"We're not selling off any assets or selling the facility at this point," said Bracey, who added that it's unknown when it might reopen.
Meanwhile, as part of the company's "new strategic direction," it is working to increase its capacity in California, although Bracey said details of projects are not yet available.
PreZero operates a recycling plant in Jurupa Valley, Calif., in the Los Angeles area, that recycles PE film and mixed rigid containers. For the latter, the reclaimer extracts and recycles HDPE and PP from 2-7 bales, making it one of a small number of domestic outlets for mixed-plastic bales. PreZero US also recently moved its headquarters from Los Angeles to that Jurupa Valley campus.
Last year, PreZero US acquired plastics recycler and bag manufacturer Roplast Industries, which operates a plant in Oroville, Calif. That facility operates a unique polyethylene film de-inking technology offered by Spanish company Cadel DeInking. The facility also produces reusable recycled-content bags under California's bag law, as well as plastic mailers.
Bracey emphasized that the Westminster closure doesn't derail the company's longer-term goal of expanding its U.S. footprint.
Plastic Recycling Update: by Jared Paben